Perhaps because they're synonymous with gold and good fortune, leprechaun's are a popular creature for slot game themes. Both the leprechaun and the mythology surrounding them are the centre of this one, as you'll find out by reading our review.
Special Features
There are a couple of interesting things in terms of special features that you're bound to enjoy in Leprechaun's Luck, as we'll explain here:
Free Spins
If you see three Leprechaun Scatter symbols appear on your reels then you're in luck – you'll be in for a series of Free Spins.
A larger leprechaun will appear on the bottom right of your screen and the number of Free Spins you'll be entitled to will come out of his pipe.
Wilds
Wilds can appear at any time and can be substituted for any symbol with the exception of Bonus Scatter symbols. In the Free Spin game, the leprechaun might do a little jig across the screen and any place he lands you'll see a Wild appear.
The beauty of this that the Wilds remain locked in place until your Free Spin game is over.
Rainbow of Wealth Bonus Game
If three Rainbow of Wealth scatter symbols appear on your screen then you'll enter the game of the same name. In order to get it started simply press the 'Start' button, advancing across the steps of the rainbow as you do so. You'll keep going across said rainbow until you either see a 'Collect' symbol or you get to the Pot of Gold. Your prize will be proportional to the size of the stake that you're playing with and the maximum prize will be 1000 times your stake amount.
Wishing Well Bonus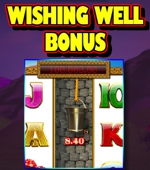 Unlike the Rainbow of Wealth bonus game, which required three Rainbow symbols arriving on your reels, you only need one Wishing Well symbol to arrive in order to enter the Wishing Well round. The difference is that it has to land somewhere on the middle reel for the game to trigger. Next you'll see a bucket get slower lowered down the Wishing Well, collecting prizes as it goes. You'll find that the bucket is lowered all the way to the bottom, with your prizes multiplied by the total stake that you've played on all lines.
Leprechaun's Gold Progressive Jackpot
There is a progressive jackpot available on the Leprechaun's Luck game. Unlike some slots, there are actually two games that will trigger you winning the progressive jackpot and they're both accessible via the bonus games. The first involves playing the Rainbow of Wealth Bonus Round and seeing all of the colours of rainbow underneath the game get lit up. If that happens then the progressive jackpot is yours!
The second way that you'll win the progressive jackpot is by getting to the bottom of the Wishing Well and discovering that there's gold down there. In both instances you'll win a portion of the progressive jackpot that is linked to how high your stake is, so make sure you're playing the highest possible amount if you're hoping to win the full whack.
Gameplay & RTP
We often say on this site that you should never let a game's Return To Player percentage dictate whether or not you get involved and play it. Nevertheless, it has to be said than an RTP of 91.31% is on the 'very disappointing' side of things. When other games offer an RTP as high as 98%, it's difficult not to think that your money might well be better invested elsewhere on the Virtue Fusion network. The only thing that might overrule that thought process is if you love the game so much and have such a good time playing it that you're not bothered about how much money you get back from it over the course of time.
In that sense, it's unlikely that Leprechaun's Luck will be a game that you can't resist playing. That's not to say that's it bad, having a theme that is at least constant and well-thought out throughout. The reels sit on top of a green field with mushrooms and flowers on it, with the line numbers down the side sitting in shapes that are filled with the colours of the rainbow. Symbols that you'll see tumbling down the reels include such Irish themed delights as a pint of what looks remarkably like Guinness, a harp and a pair of mushrooms. Theming, then, is not a problem.
It's also fair to say that the bonus games also fit in with the theme of the game. The Rainbow of Riches is a good concept that is enjoyable to watch. The Wishing Well is a little bit boring, truth be told, but if you hit that particular bonus round then you won't be complaining given the amount of money you're likely to be winning. The truth is that everything in this game seems functional rather than exciting. The reels spin in a bit of a lumbering manner, accompanied as they are by birdsong music that suggests a lazy day sunbathing rather than an exciting and engaging game. It's perfectly find, but you'd struggle to say it was anything more than that. Combine that with a poor Return To Player percentage and you can see why we're not falling over ourselves to rave about it.