Love Your Bingo Review
It's actually surprisingly rare to find a bingo company that isn't linked to one of the big names in the online gaming industry, believe it or not. Whether it's that they're owned by a major bookmaker, such as Betfred or Paddy Power, or it's the online arm of a well-known bingo company from the physical world, like Mecca or Gala Bingo, most of the sites we talk about on these pages have ties to other companies that you'll have heard of regardless of your knowledge of the industry as a whole. That's not quite the case with Love Your Bingo.
It's not quite a fully independent bingo company, owned as it is by 8 Ball Games Limited, but it comes about as close as it's possible to do. We'll tell you a bit more about 8 Ball Games later, though for now it's worth noting that they're a subsidiary of Stride Gaming. Stride Gaming, in turn, is the parent company of a number of other bingo sites, which means that they know what they're talking about when it comes to how to run a bingo site! You'll find out how that manifests itself in their loyalty program, the rooms that they offer and the slots that you can play by reading on.
Welcome Bonus:

£30 Bonus Package

Love Your Bingo is offering a £30 bonus package to new players. Simply deposit and wager £10 to receive a £20 bingo bonus and a £10 slots bonus. The bingo bonus comes with a 4x wagering requirement, whilst the slots bonus is 40x.

Sign up bonus for new customers only. 18+. T&C's apply.
Loyalty Program
Love Your Bingo's loyalty program is called their Love Club, which might make some think of dodgy places in small towns where you put your keys into a bowl and see where the night takes you. That's not the case here, of course, with the order of the day being the ability to earn yourself nice little bonuses by being loyal in your bingo playing. It's good for everyone, with Love Your Bingo knowing that earning your regular custom will benefit them in the long-term and you able to get some recompense for all of your hours of play that you wouldn't necessarily get if you flitted from one bingo provider to another.
Loyalty programs all tend to work in much the same way: you begin life in the company's entry-level category and then make your way up the ladder the more that you play. As you climb the ladder of loyalty you'll find that your rewards become larger and it's easier to earn bonuses that reflect your importance as a VIP. At Love Your Bingo the entry-level is Bronze, before you move to Silver, Gold and Platinum before hitting the peak when you become a Diamond member.
This table outlines how many points you need to earn in order to climb through the levels, as well as how many Loyalty Points you'll earn per £1 spent on bingo, slots, scratch cards and multiplayer slots. For the purposes of ease, slots, scratch cards and multiplayer slots will come under the title of 'Slots' as they all earn the same amount of points per £1 spent:
| Loyalty Level | Points Needed To Reach Level | Points Needed To Remain At Level | Points Earned From £1 Bingo Spend | Points Earned From £1 Slots Spend |
| --- | --- | --- | --- | --- |
| Bronze | Entry Level | Entry Level | 10 | 1 |
| Silver | 3,000 | 2,500 | 12 | 2 |
| Gold | 10,000 | 7,500 | 14 | 3 |
| Platinum | 20,000 | 15,000 | 16 | 4 |
| Diamond | 50,000 | 30,000 | 20 | 5 |
It's clear from the table above that it becomes easier for you to earn points the higher up the Loyalty Club you climb. It's well within your interest, therefore, to earn as many Loyalty Points as you can and try to become a Diamond member as quickly as possible. You can begin to exchange your Loyalty Points for gifts and bonuses as soon as you've earned 500 of them, so do bear that in mind.
Bingo Games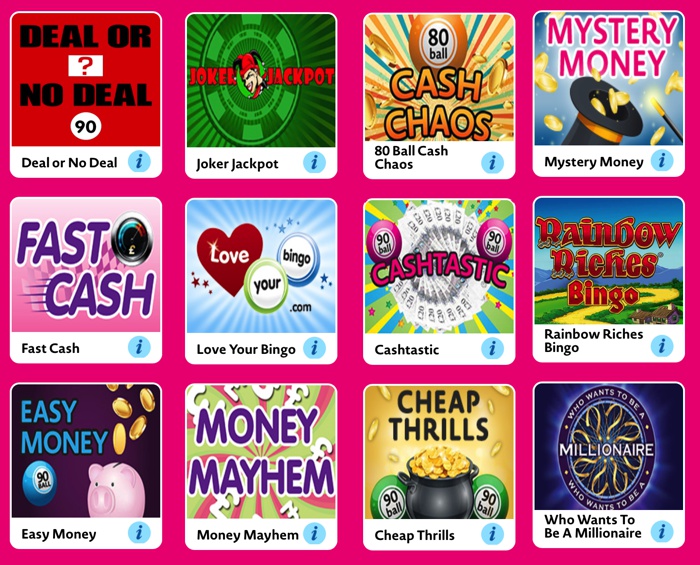 Love Your Bingo is on this site because it's on the Virtue Fusion network and therefore has a number of things in common with all of the other bingo companies we've told you about on our other pages. One of the things that they have in common are the various rooms that are the same from one bingo company to another. Yet they also have rooms that are individual to them in order to persuade punters to come back on a regular basis. Here are some of those unique to Love Your Bingo:
Fast Cash
The clue is in the name here. This is a speedy room where you can play 90 ball bingo at a rate of knots. The idea being that the more games you play the more chance there is of winning.
Cashtastic
The name of the room is presumably some sort of play on 'fantastic', though it doesn't really work. Regardless, this is a 90 ball room with decent starting prices on the bingo tickets you can buy. A chance to win reasonably big is on offer here.
Cheap Thrills
With a room name reminiscent of the Love Club, Cheap Thrills is where you'll want to head if you fancy playing some bingo for not much money. It's a value room with ticket prices starting at 1p for this 90 ball bingo game.
Easy Money
Whether or not it actually is easy to win money in this room remains unclear, but it's a 90 ball room with cheap games that will keep you entertained well enough.
Joker Jackpot
This room is a little bit different to the others in terms of style and the graphics used. It's played as though it's a card game, although unlike real cards the joker is actually a friend here rather than a foe.
Mystery Money
This is the self-styled room for Love Your Bingo 'roomies', where most of the site's promotional games are held. You'll want to head here if you're a newbie and ask questions of your fellow room mates if you're not too sure how the game works. There are loads of different games played throughout the day.
Cash Chaos
The major difference here compared to the other rooms is that this is an 80 ball bingo room. That means that the games will come to a conclusion a little bit more swiftly and are played in a slightly different way. Check it out to see what we're talking about.
Side Games
Virtue Fusion is a provider owned and operated by Playtech. Playtech not only supply bingo software but also slot machines and other games for all of the different companies to use. Of course, there are plenty of providers out there for games and slots, so most of the big companies take a few from column A and a few from column B to ensure that there's a host of variety available to punters. Love Your Bingo are no exception, placing all of their side games under the imaginative tab of 'Top Slots' on their homepage.
Such is the nature of the big providers out there, it's tricky to know which games are exclusive to Love Your Bingo and which are generic ones that you can play on most sites. There are numerous ones that you'll recognise if you have played slots on a few different Playtech powered sites, with Fruity Burst, Rainbow Riches and Dynamite Digger being obvious examples. Nevertheless, the games are interesting enough to mean that you'll enjoy playing them and they'll provide you with plenty of entertainment if you fancy spending a few minutes away from the bingo.
Banking
Most of the bingo companies out there tend to have similar rules when it comes to banking, so if you've used one of the other sites we recommend here then none of the following will come as a major surprise. The first thing to note is that, whichever banking method you opt for, you won't be charged deposit or withdrawal fees by Love Your Bingo themselves. That doesn't mean that you won't incur a charge from your financial provider, however, so be aware that you'll need to check with them before you do anything else. In terms of available payment methods, you'll have all of the usual debit cards available to you, such as Visa and MasterCard.
Nowadays e-wallets are becoming more and more popular. The likes of PayPal and PaySafeCards are being used with a degree of regularity to make deposits and withdrawals when people are engaging in online transactions, so Love Your Bingo are happy enough to let you use them. Whatever method you opt for, You'll find that the minimum deposit amount allowed is £5, with a maximum deposit of £1,000 possible in one go. As for withdrawals, the minimum amount you can take out is slightly higher at £20. You'll be allowed to withdraw a maximum of £10,000 in one go, with the number of withdrawals you can make over a 24-hour period limited to five.
About
Love Your Bingo was launched in 2010 and is owned and operated by 8 Ball Games, a company that's registered in the UK Channel Island of Alderney. They also own and operate a number of other bingo sites, so it's entirely fair to say that they've got their act together on the bingo front by now.
As we mentioned before, 8 Ball Games is in turn owned by Stride Gaming. They bought the company in 2016 as part of a deal that saw them acquire a number of other online gaming sites, showing that they're making slow but sure headway into a competitive marketplace. Stride Gaming own a number of these sorts of companies, including online casinos as well as other bingo sites.