Coral Bingo Review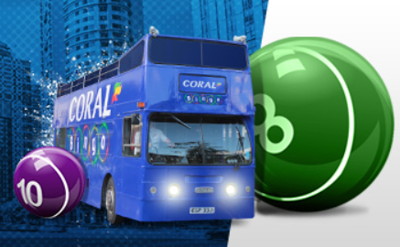 When Joe Coral set us his bookmaking pitch for the first time on a racecourse in 1926 there's no way of knowing whether he'd realise how big his company would one day become. Back then it was just a matter of taking money for horse racing bets before later moving things on to include the likes of speedway meetings. Nowadays Coral is one of the biggest bookmakers in town, especially since the company's merger with Ladbrokes.
Those of you that have read our review of Gala Bingo will know that the company acquired Coral Eurobet in October of 2005 for £2.18 billion. It's not shocking, therefore, that Coral have themselves launched a bingo section when you consider the links to such a well-known bingo company as Gala. Though Coral is still best known for it sportsbook, the bingo rooms have been gaining in popularity and a quick look through this page will tell you why.
Welcome Bonus:

Spend £5 Play With £30

Sign up and spend £5 on bingo and you'll receive a £25 bonus - giving you a total of £30 to play with. The bonus is valid for seven days and comes with a 2x wagering requirement which means you'll need to play £50 worth of bingo before withdrawing any winnings.

18+. New Coral Bingo customers only. Min spend £5 on Bingo tickets to get £25 Bingo Bonus. Min wagering req 2 x Bingo Bonus. Bonus credited automatically. From date of registration players have 30 days to qualify for the Bingo Bonus. Bonus valid for 7 days.Certain countries only. T&Cs apply.
Loyalty Program
Coral's bookmaking arm has a decent loyalty scheme, so it's no surprise that there's also a decent one for loyal bingo players to take advantage of. You'll earn points every time you play bingo or side games within bingo rooms and as soon as you've hit one thousand loyalty points you'll be able to start redeeming them.
The whole point of loyalty schemes is to reward customers that continue to play their games with one company more than others, so you'll find your bonus points account totting up the more money you invest on your bingo playing. You'll need to redeem them within three months of acquiring them, though, as they expire after that. You can climb through the loyalty levels by earning more and more points, with the higher you are up the ladder reflected in the number of bonus points earned per £10 spend. That should be made a bit clearer by this table:
| Loyalty Level | Casino Games | Slot Games | Scratch Cards | Bingo |
| --- | --- | --- | --- | --- |
| Bronze | 10 | 10 | 20 | 100 |
| Silver | 20 | 30 | 40 | 120 |
| Gold | 30 | 40 | 60 | 160 |
| Platinum | 40 | 60 | 80 | 200 |
| Diamond | 50 | 70 | 100 | 300 |
As mentioned a moment ago, you climb the loyalty ladder by earning more points, but what are the requirements for each level? They're as follows:
Bronze – Beginner Level
Silver – Earn 3,000 Points
Gold – Earn 10,000 Points
Platinum – Earn 30,000 Points
Diamond – Earn 50,000 Points
1,000 points can be redeemed for £1 in cash, so the more points you earn by playing bingo and other games, the more you'll be able to withdraw as cash. It's the equivalent of being paid to do what you want to do!
Bingo Games
The sites recommended here are on the Virtue Fusion Network. In case you weren't aware, Virtue Fusion have a huge amount of their own games that the put into the different sites that use their network, so the likes of Deal or No Deal Bingo won't be exclusive to any one site. Most of the bigger companies do have their own games, however, though some of those on Coral's site are also available on Gala because they're part of the same network. Here are some examples of what you can play through Coral:
Emmerdale Bingo
A 90 ball room that is themed around one of ITV's most loved soap operas, fans of the series will no doubt recognise the voice of the bingo caller. There are five additional jackpot prizes to play for, each based on an Emmerdale filming location.
Allsorts
This is a chance for those of you that might not be particularly comfortable with the world of bingo to play a game for free. Offering real value for money, given no money need be invested, you can play the game from 12pm until 8pm and have the chance to buy tickets to play for bigger prizes.
Bingo Lotto
A crossover between the lottery and a normal bingo game, this is a 49 ball room with a progressive jackpot of at least £25,000 available for whoever gets six balls out of six.
Big Banker Bingo
Another 90 ball game, you can play Big Banker Bingo from 8am until 1am every day of the week. Ticket start at just 5p and if you get a full house then you'll be able to decide whether to take the banker's offer or see what's inside the golden safe.
Coral Value Room
This 90 ball room is open for business from 10am until 6pm and there's just shy of £4,000 in prize money to be won every day. Ticket prices start at just a single penny but you can win a decent amount of money in return for it. This is one of the rooms that is very much a Coral exclusive, as the name suggests.
Coconut Island
Coconuts drop from a tree in this 50 ball game, cracking open to reveal the numbers. There's a treasure chest jackpot that is progressive and comes into play if house is called in fifteen balls or less. Open from 10am until 5pm, you can buy tickets from 5p upwards.
Rush Bingo
Can't be bothered to wait around? This room that's open twenty-four hours a day and seven days a week is for you. Games happen every two and a half minutes, resulting in twenty-four every hour. Tickets are 1p to 25p to buy.
Swift Bingo
This is a similar room, with 90 ball games kicking off every two to four hours.
Coronation Street Bingo
This game does exactly what it says on the tin, offering players the chance to get involved in a 90 ball bingo room themed after the much loved TV show. Open from 8am until midnight and with either Reg Holdsworth or Fred Elliot calling the numbers, the Golden Cobbles progressive jackpot is what you're going to want to activate to win big.
Side Games
As well as bingo games, the Virtue Fusion Network also offers set games to all of the companies that use its wares. The good ones have games of their own, though, so here's an example of the sort of thing you can expect to see from Coral:
Coronation Street Bouncy Balls
Imagine a room filled with bouncing balls that have the faces of Coronation Street characters on them. Now imagine that if several of those balls land alongside each other you've won a prize. You're imagining the Coronation Street Bouncy Balls game. You can decide for yourself if that sounds fun.
Coconut Island Slot
A game that will tempt you to book a holiday to somewhere sunny and relaxing, the Coconut Island Slot game is similar in style and appearance to the bingo room of the same name. If you like that you'll like this, just don't be surprised if you spend any winnings on a flight somewhere warm.
Hot Cakes Fun Drops
This game works in a similar way to the Coronation Street Bouncy Balls game, with the difference being that the balls that bounce around the place are covered in sweets and other tasty morsels. Play the game, but try to resist the urge to have a sugary snack whilst you do.
Banking
As you'd expect from a bingo room linked to a well-known bookmaker, there are plenty of different banking options available to Coral Bingo players. There's no point listing all of the options, in fact, as we'd be here all day and you know the sort of thing that you'll be looking to use anyway. If they include debit cards then you'll be grand, plus you'll be able to use the likes of Skrill, NeTeller, EcoPay, PaySafe Card and PayPal.
All of the payment options have a minimum deposit amount of £5, with the exception of PayPal that shifts up to £10. When it comes to withdrawals, the minimum for all methods is £5. You'll not be charged to make withdrawals or deposits as far as Coral are concerned, but check with the company that provide you with your deposit or withdrawal methods.
Coral Connect
The Coral Connect Card allows you to collect any winnings you've picked up in one of the company's 1,800 shops. In order to get your Coral Connect card you need to speak to a member of staff in your local Coral betting shop who will set it up for you on the spot. Existing customers of Coral's website can pick up a card in any Coral shop by supplying your username and supplying a four digit PIN to activate it.
Note: If you don't currently have a Coral account, then you'll want to sign up for one online first to make the process easier and faster.
The first time you withdraw funds from a shop using your Coral Connect card you will need to show the debit card registered on your account (if there is one) and it's a good idea to take some photo ID as well. But if you are not too comfortable entering your card details online (even though Coral's security is top notch), using your Connect card to deposit and withdraw funds to and from your Coral Bingo account could be perfect for you.
About
As mentioned in the intro, Coral as a bookmaker was started in 1926 when a young man named Joseph Kagarlitski, who changed his name to Joe Coral, opened a betting pitch on a racecourse. He soon began to run Speedway meetings with his mate Tom Bradbury-Pratt at Harringay and the pair opened a credit office in London nearly twenty years later. Coral was one of the first bookies to open a shop when the law surrounding that changed in 1961, merging with another bookmaker in 1971 to form Coral Leisure Group.
Bass Plc bought Coral Leisure Group in 1981, though it continued to be operated as a separate entity from Bass Leisure. The company changed hands a few more times prior to merging with Eurobet in 1999 to form Coral Eurobet. The new company was itself bought by Gala in 2005 and ten years later the Gala Coral Group merged with Ladbrokes to form Ladbrokes Coral. As far as the bingo arm of Coral is concerned, it launched in 2012 and was given a revamp in 2015. Though Coral themselves don't operate any bingo halls Gala obviously do, with Coral concentrating on their betting shops.